I am often in awe of the amazing things that happen whilst I am offering Animal Reiki. The reason being that as I hold the Reiki space, the animals are able to behave as their species intended. I have offered Reiki to a herd of horses, while they each waited in turn. Reiki to a cow called Chilli who at our deepest Reiki moment another cow broke down the barn door to receive Reiki too. The stories are endless and have now become the experiences I can share with my own students. I have been on a 10 year apprenticeship working with the Remus animals. I have offered them Reiki as they were being put to sleep, as they felt poorly, as they felt well. My Reiki practice is always in a place of learning. I now stand in the middle of the vast fields at Remus working with the animals that are the healthiest. Recently I have been chanting along with Kathleen's amazing Medicine Budda Chant http://www.animalreikisource.com/medicine-b-chant The animals and I love this free spirited approach. I love being on my own, feeling the sun in my hair and my feet firmly connected to the earth. It is lovely to have no one dependant on me, other than that I am there for the animals. I have no expectation of them and them of me. The chanting truly helps me to let go and to just 'be', it helps with my breathing and the animals love the grounded energy that it creates.  Using Kathleen's chant I have been able to work with a horse called Marcus who was beaten so badly, that when he came to Remus, he stood in the exact same position in the Remus stable for days, as he was so scared to move. My relationship with Marcus now, is one of trust and respect. I hold the 'Reiki' space chanting along with Kathleen and stand motionlessly in the field. During these moments he will often come and nestle his head on my shoulders, I refrain from touching him as I know that he does not want me to touch him. He respects me for this and now looks for me, while I walk thorough the fields.
Recently I visited my twin sister in Ireland who owns a farm. I applied all of the above as I worked with her cows and calves. They warmed to me, as they knew I was there to help. One cow sat with me and the calves ended up sitting on my lap. Just by holding a space, they were able to be whatever they wanted to be. As we walked up through her land, I met Shadow her beautiful horse who has an idyllic life with Ned the donkey. They have a huge amount of land where they can forage for herbs, a natural river with a Forrest. As we stood at the gate, I chatted to my sister about the benefits of Reiki. Shadow and Ned stood with their heads over the gate listening and watching. I chatted with my sister about the loss of our dad, the care our mum needed and how proud we were of our children. Without my knowledge and to my surprise Shadow and Ned started to yawn and yawn and yawn. They had used the opportunity to draw their own Reiki through me. It was the first time that this had ever happened to me and the amount of Reiki energy they must have drawn  must have been huge as they were literally yawning non-stop for around 15 minutes. It was so funny to watch and also very humbling to understand it from their point of view.
The point of this blog is that we never stop learning and the animals never stop teaching us. I will probably be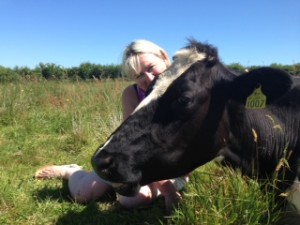 doing my apprenticeship for the rest of my life. To have 'NO' ego is to realize that you do not know it all. We all need teachers and mentors to support us as we learn and to continually learn. We all need to understand that it is the animals that are teaching us and to be grateful for what they selflessly share with us. The small moments of wonder are often the most poignant ones and can be easily missed if we don't read the messages that we are being shown.