I am very blessed to have a large animal family; dogs, cats and chickens, and I have a special relationship with each one of them. For anyone who finds the idea of chickens as pets a little unusual I hope they get the opportunity to spend time with chickens as it doesn't take long to get to know their unique characters, pick up on their favourite foods and the many other things that make each one special and unique.
Almost four years ago, just after we had moved to our present, we were given two hens and two chicks. They were not getting on with the rest of the chickens in the previous home and my husband came home with them. We had discussed homing ex-battery hens that spring so he knew I would not mind. At that point we did not know what sex the chicks were but as a few of our neighbours had cockerels we were not too concerned. As Pip and Squeak grew it was quickly apparent that Pip was a boy, he was twice the size of Squeak and we soon realised that they had different parents.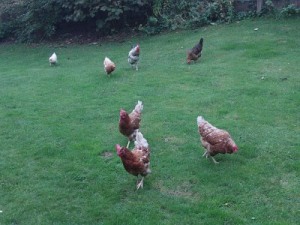 During the years Pip has grown up with and taken care of ten ex-battery hens. He adored each one of them and I know he missed them for a long time after each one made their journey over the rainbow bridge. He always has been a wonderful rooster as he always makes sure the girls eat first and keeps any squabbles at bay. In the spring we decided it was time for more hens to join the family. He is particularly taken with Sunny and Joy, our two blackrock girls, who have bags of energy and are always at the front of the flock, he even follows Joy into the nesting box when she is about to lay an egg, complete devotion.
Recently, I noticed that Pip was not himself, he was quieter than normal and a day later I decided to bring him in the house as the weather was very cold. I gave him the practical care he needed and settled down to share Reiki. That first day the Reiki space was so strong, I could not move or even open my eyes, and we stayed that way for over an hour. Pip released so much in the safe and loving space, he also needed some quiet time to himself just to be. At the end of our Reiki session Pip was resting peacefully, the connection between us and the Universe was perfect, no separation between us. There was a complete knowing that all was well and exactly as it should be. I had tears of joy in my eyes and so much gratitude in my heart.
After this Reiki session there is a knowing between us, we shared something so powerful that it has deepened our bond and changed our relationship forever.
After a few quiet days with lots of TLC and Reiki, Pip was much brighter and he happily re-joined the hens. They were more than a little excited to see him, clucking and chirping away, they had certainly missed him and he seemed pleased to be getting so much attention once again.
Tina Read
SARA Teacher