Carrying on from my last blog about Pip.   A couple of weeks ago I noticed Pip was not eating and was looking out of sorts.  I decided to take him to the Vet as the usual checks did not reveal anything, he had previously had an impacted crop and I was able to tell this straight away and treat it.  Off we went to the Vets and I was told Pip had canker. This was something I had not come across before with my chickens and the Vet gave me medication to treat it.
Over the next couple of days Pip became weaker and I felt fear that he would not get better.  Whenever I spent time with him that day I did self healing and worked with the three diamonds.  At these times Pip would come out into his run and stand watching me.  I knew I had to be mindful of my thoughts and regain my grounding in order to be a clear channel for Reiki.
The first meditation I did with him after this was Kathleen's Healing Pond meditation, inviting Pip in to take what he needed at that moment in time, I felt such a powerful connection with him and clearly saw a Ram in my mind's eye.  I think this could perhaps have been one of Pip's guides. This is not something I had experienced before and so vividly.
There were days over the next week when Pip became very weak. One day I wrapped him in a blanket and he was lying on my knee, his breathing so shallow I thought he was getting ready to transition.  The canker had gone but I sensed in the Reiki space a blockage in Pip's solar plexus. There were other physical signs that supported this.   We shared Reiki for a long time but it seemed to pass in a moment, there was such a feeling of peace between us and no expectation of outcome in that moment or any other.  Everything felt perfect.
After a couple of days Pip was eating more again and was looking better. There were still times when he would close his eyes and look tired but he was now fighting and I could sense he wanted to stay.  The block was still coming up during our Reiki meditation times and his physical symptoms were still present.
I felt it was right to go back to the Vet at this point, who luckily is used to me suggesting what may be wrong.  After examining Pip he felt there was a growth in the digestive system and didn't feel optimistic.  The next couple of days Pip seemed to get weaker, I spent every free moment with him just being together in the Reiki space with so much love and understanding between us.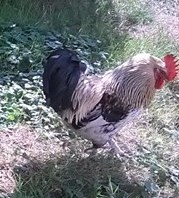 At the beginning of this week I was woken by Pip crowing, such a joy as he had not crowed for a month. His physical symptoms also disappeared that day.  It was very mild and sunny outside and Pip went out for a couple of hours with his girls.  He needs to put on weight before he can go back out permanently.
I trust that if Pip's path is to get well the growth will dissolve with love but I put no attachment on that.   Pip and I have shared compassion for one another, he has helped me to look at my deepest fears helped me release them.  When we focus on each moment, letting go of everything else, being Reiki, we are blessed with the gift of peace.
Tina Read
SARA Practitioner/Teacher