In April 2011 we went to Little Hen Rescue to collect our first beautiful ex battery hens. The girls were a joy from the moment they arrived and so trusting, they relished their new life and freedom, including scratching around in the grass, sunning themselves, dust bathing and doing aeroplanes up the paddock at great speed. During the first few group Reiki sessions the girls let go of old grief and emotion, I always felt very humbled as they allowed me to experience them letting go of the past and the tears of release flowed freely. This is something I later realised many ex battery hens do when they first step into the Reiki space and then they move forward.
As our time together progressed the girls and I shared so much joy, being outside in the fresh air, connecting in the Reiki space and enjoying many cuddles. They would greet each day with such enthusiasm, relishing each experience and would make us laugh each day.
The girls were the prompt for me to become vegetarian, something I feel so much gratitude for, they truly opened my eyes. Hubby and I also volunteered at Little Hen Rescue, helping to unload the girls when they first arrive and taste freedom and on the rehoming days when they meet their new families.
After only three months Gilly crossed the Rainbow Bridge, during the night I had woken to see a vision of Gilly, it was so clear but I fell straight back to sleep. I am sure this was her way of saying goodbye and of lessening the shock for me, an expression of love and compassion. I had not expected her time to be so short and I felt so many emotions. A few months after this Hope followed her sister but this time I was blessed to be in the Reiki space with her when she made her journey and it was very peaceful. We said our goodbyes to the girls at different times and Reiki was always such a blessing.
When our last two hens, Rowena and Vanessa, who had enjoyed over two years of freedom started to become weaker with sniffles and Vanessa with a swollen abdomen, I took them to the Vet who diagnosed Vanessa with a tumour in her reproductive system and didn't give her much longer. Vanessa had always enjoyed coming into the kitchen for treats, sang loudly and chased the cats for amusement, she and Rowena had always been strong and joyful girls and best buddies. I started to visualise Vanessa in perfect health and imagined the tumour shrinking to the size of a pea and being easily passed from her body. I expanded this vision with Reiki and after a few weeks that's exactly what happened. Vanessa and Rowena enjoyed life in the house and garden with plenty of extra tlc, they always seemed to know when the Reiki chants were playing or when I was opening the Reiki space for our whole animal family as they would appear chirping away and settle down to enjoy the energy, the first few times it would make laugh when I heard them scuttling along the corridor chatting away. They were slowly gaining strength and one Sunday they decided to follow hubby on his lawnmower tractor doing aeroplanes much to our amusement, what a joy to see them enjoying themselves so much.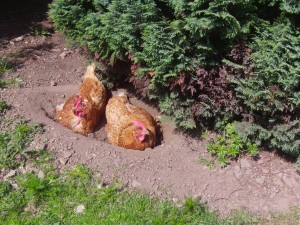 A day later Vanessa was very quiet but she still went into the garden and she and Row pottered around pecking at the grass. I spent a few hours that evening sharing the Reiki space with her as it just felt right, afterwards I felt so much peace and love from her. The next morning this beautiful and special girl had made her journey across the bridge. I felt sadness for myself and Row but somehow I knew that everything had worked out as it was meant to. She had healed herself from the tumour with Reiki, completed exactly what she needed to in this lifetime and it was time for her to move on.
Rowena had many more happy weeks and then started spending more time in the house by her own choice, the weather was getting colder and being a house chicken suited her better, she liked to sit with the cats and dogs and enjoyed lying by the radiator. She enjoyed meditation time and listening to the Reiki chants as she always had. One of my little adopted Polish chickens was going through a moult and was showing signs of the sniffles and I brought her inside and she and Row became great friends.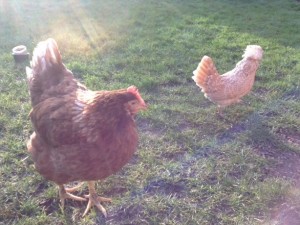 When I returned home after a couple of days away and only a day after she had been out in the garden enjoying the winter sun, Row was unable to stand up, I had seen this happen before with the girls and I thought I knew where this was leading. I made her as comfortable as I could and whenever I had a free moment we would share Reiki. I tried to stay positive but sometimes the tears would come. When this happened Row would peer at me through half closed eyes and remind me that it was time for some self healing.
Row's legs were becoming painful so I spoke to the Vet and gave her some pain relief, she would send me the feeling and so I clearly knew what she wanted. I would hand feed her including late night and make her as comfortable as possible. There were times of such peace when we were in the Reiki space and I began to truly know that everything was working out as it was meant to. I knew had one chance to fill Row's days with peace and share this precious time with my friend. One night she was so weak, her breathe so shallow I felt sure she was ready to cross over but she had other plans and day by day she gradually seemed to be getting stronger.
At this time I started to visualise her standing up. Every few days I would carry her outside so she could breathe the fresh air, see her other chicken friends. She was happy to be cradled in my arms enjoying the peace and time together. It was the morning after one of these outside visits and when I had truly accepted this was Row's journey and I was privileged to be part of it that she surprised me yet again, she stood up for the first time in three weeks and I have to say was looking rather pleased with herself. That day she started eating her normal food and a couple of days later came off the pain relief. She is now walking a few steps and regularly spends time in the garden with Ginger, she has me well trained and still likes to be hand fed and spoilt with the finest blueberries.
The truth of the matter is that Rowena chose to stay, this quiet and gentle hen summoned all her strength and focused on getting better, she opened herself up fully to healing in the Reiki space and we are now sharing more happy days together. Finally, I understand what it is to live in the moment and I truly feel in every cell in my body that each day a precious gift and I am so blessed to have this amazing hen in my life. I trust we will be together for as long as we need to be and then we will continue to be together, it will just be different and that is perfect too.
This precious experience that I shared with Rowena and continue to share encompasses all the Reiki Precepts for me; do not anger, do not worry, be humble, be honest in your work and be compassionate to yourself and others.
– Tina Read, SARA Teacher