I had an amazing experience with a cat client recently, their person called me as the Vet had said that there was nothing else they could do for Tiggy other than to put him to sleep.  The person did not feel he was ready for this and when she was sitting quietly with him she heard Tiggy say the word Reiki to her, she knew nothing about Reiki at this point but decided to look into it and found me through the internet.
When I first met Tiggy he did not move from his bed, his back and front legs kept going from under him and he was very quiet and his pupils were large the whole time.  He was on pain relief but no one knew if this was helping or not.  He allowed me feel how he was feeling during the Reiki and loved the Reiki space so much, purring and sleeping peaceful for the first time in ages.
His person told me that she felt Tiggy had Lymes Disease but that the Vets had ruled it out as it is very rare in cats and almost impossible to diagnose, I said to her to follow her intuition and trust herself.  A week or so later she had heard the words Lymes Disease in the same way she heard Reiki.  This was a process for her and part of her own personal journey and later as her confidence built she spoke up to the Vet and said she would like him to be treated for Lymes Disease.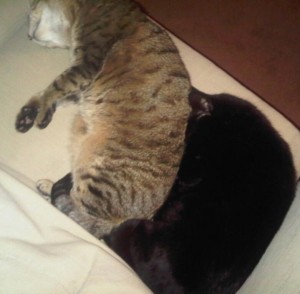 Each time Tiggy was in the Reiki space he looked brighter and his person and I worked together on visualising him in perfect health and walking, playing and enjoying life.  Tiggy had only been with the family a few months and the other cats had never really accepted him, he did not seem to conform to the normal kitty etiquette, after the second or third session I had a call from the person to say that Tiggy and Ozzy were cuddled up together and they spent an entire night like this, this was a huge change.
The next time I saw Tiggy he had received his medication for Lymes Disease and he was up and running about, his eyes were normal and he was the majestic Bengal cross I had always seen him as being.
One thing that I haven't mentioned about Tiggy is that each time I visited I felt the most amazing warmth as if sunshine was beaming at me and the most wonderful feeling of love, I soon realised this was coming from Tiggy, who was showing us, his person and I, such love and compassion.
All the family's rescue cats enjoyed the Reiki sessions and Mac one of the other kitties adored the Reiki so much he would nuzzle my hands and sit on my knee during the sessions, he had always pulled his fur out in the past but after the first Reiki session this stopped.  I am now working with Mac as he is fearful of some of the other cats but I know that I am also there to bring Reiki to the whole family.  Their person would also like to learn Reiki so I am looking forward to that in the New Year.  I am truly thankful that I have been part of Tiggy's Reiki journey an know that he has guided the process.
– Tina Read, SARA Teacher