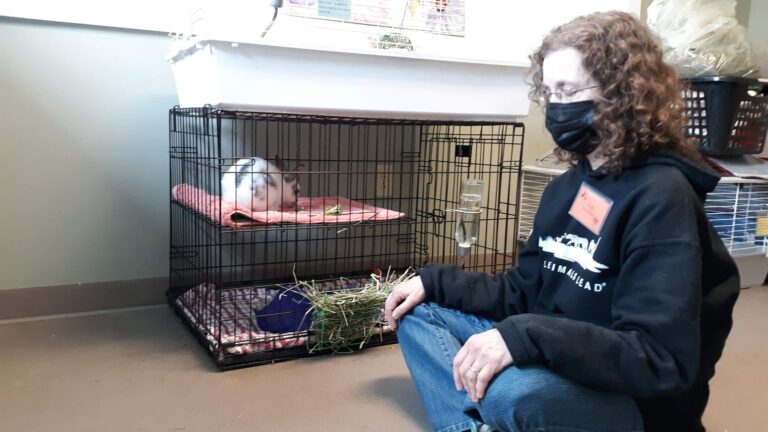 Photo courtesy of Kelly McDermott Burns
Let Animals Lead® Level 1 Animal Reiki Online Certification Class
If you're involved in the care of shelter and rescue animals, whether you're a volunteer, foster, veterinarian, or staff, and are looking for a significant way to help animals be more adoptable, then you're ready to learn the Let Animals Lead® method of Animal Reiki/Meditation.
Are you an animal lover who just wants to find a way to help animals but you don't want to become a vet tech or feel shelters are too sad for you to volunteer there? You definitely want to take this class! 
At the end of this class you will:
Have the ability to make a positive difference for animals, volunteers, staff, the community and yourself

Have the tools to handle stressful situations in a confident, calm and clear way

Be able to support the animals' emotional health

Become an animal magnet to even the most sensitive animals

Have the tools to support ANY animal under ANY condition! 
For people, this method helps bring calm in the midst of crisis and strength to cope with stress. Your energy affects others - stress is contagious but so is peace.
For animals, this method helps reduce kennel anxiety and encourages a deeper, trusting relationship with humans, helping them become more adoptable. This groundbreaking hands-free method is an easy and effective way to transform depression to happiness, suspicion to trust and overwhelm to confidence. In short, we help create a peaceful shelter environment for animals, staff and volunteers.
If you aren't in a shelter and just want to support animals, this class is perfect for you as well! You will learn so many different tools to be able to support any type of animal in any situation! 
What you will learn:
A variety of breathing and meditation techniques to create inner stillness, mindfulness and strength for yourself to benefit the animals.

How to use these meditation techniques to create a peaceful shelter environment for the emotional health of the animals and humans.

Techniques for self-care to prevent burnout and compassion fatigue.

Ethical guidelines for supporting animals with this method.
What you'll receive:
Eight live (via Zoom) weekly teachings and guided meditations, including a Reiju, Q and A time with Leah, and written supplemental materials to support each week's lesson.

Daily practice assignments and weekly homework to guide your journey.

A beautiful electronic certificate. 

An invitation to join SARA (Shelter Animal Reiki Association) as a Practitioner member.
Requirements:
Students will need to be able to participate live at scheduled times. Attendance is required for 7 of 8 sessions to receive certification. 

You must be able to connect via video (preferably) or audio on the webinar platform Zoom.

Students will need to be able to download and open video and pdf documents in order to watch and read the weekly lessons and assignments. 

Students must have animals to practice with daily.  A variety of animals is preferable (ask neighbors and friends to support you!), but 1 or 2 of your own is needed. 

Students must commit to 10-20 minutes/day minimum of daily meditation practice during the course. 
The cumulative effect of eight weeks of the Let Animals Lead® method of Animal Reiki? Certainly, you will feel prepared to help any animal, in any situation. On top of that, the self healing you experience will make it easier to practice with people, and fortify yourself against the challenges of daily life! This course is a win-win for everyone!
Two Times to Choose From:
AM Session: 9:00 AM to 10:15 AM Pacific Time
PM Session: 5:30 PM to 6:45 PM Pacific Time
These sessions are live via Zoom.
Cost: $350 with 25% donated to an animal welfare charity.
Click the link below to find upcoming classes: