Online Classes
Have a positive impact on the lives of rescued animals by becoming a certified Let Animals Lead® Practitioner and a member of SARA today! In order to be certified in the Let Animals Lead® method and to join SARA, students must complete a Let Animals Lead® Level 1 class with Kathleen Prasad or one of her certified teachers teachers OR complete SARA's Let Animals Lead® Animal Reiki for Reiki Practitioners course with Leah D'Ambrosio.
The Let Animals Lead® method of Animal Reiki allows animals to lead their own healing process. It is not about the practitioner "fixing" something that is wrong; rather, it is about providing a calm, positive space that is optimal for self-healing. We hope you'll consider becoming a member of our amazing community of animal advocates!
Animal Reiki for Reiki Practitioners - Teleclass & Audio Course
Are you interested in bringing animals into your Reiki practice? Have you tried human Reiki with animals and are not getting results? If so, this class is for you!

This unique class is an overview of Animal Reiki levels I and II classes. With lessons from the world's foremost Animal Reiki expert, Kathleen Prasad, and support from SARA co-founder and course instructor Leah D'Ambrosio, you will be able to create a powerful and effective Animal Reiki practice.
This course includes Animal Reiki treatments in every course lesson and assignment. Through this hands on approach, you will develop a deeper, personal connection with animals, as well as with people in your life!
For each lesson, you will receive:
PDFs with information regarding the lesson, along with a link to all class recordings.
An assignment, which includes a suggested Reiki practice.
Each Reiki practice assignment deepens your understanding of how Reiki heals animals, and how animals respond to treatment. This is the perfect safe space to share experiences, and express your biggest "takeaway" from each week's lesson!
The cumulative effect of eight weeks of Animal Reiki? Certainly, you will feel prepared to practice reiki with any animal, in any situation. On top of that, the self healing you experience will make it easier to practice with people, and fortify yourself against the challenges of daily life!
Instructor Leah believes that personal connections with each of her students are extremely important, so she is available for support through email, as well as Skype sessions when requested.
Once you turn in all eight of your assignments, you will receive your course completion certificate via email.
---
Teleclass
Prerequisite: Level II Reiki in any lineage.
This course meets each Monday for eight weeks, from 6pm PT/9pm ET to 7pm PT/10pm ET. Students will call in to join the teleclass for discussion and Reiki practice.
Dates: TBA soon!
Time: 6pm PT/9pm ET to 7pm PT/10pm ET
Cost: $275
Teacher: SARA Vice President Leah D'Ambrosio
---
Audio Course
(Same as teleclass but pre-recorded, with online and Skype support from Leah D'Ambrosio)
Prerequisite: Level II Reiki in any lineage.
This is an 8 week audio course where students will receive their first assignment on the Monday after registration and for every Monday thereafter for eight weeks.
Cost: $275
Teacher: SARA Vice President Leah D'Ambrosio
---
Curriculum Overview:
Week 1: Japanese Reiki Fundamentals
Week 2: Shoden and Okuden Techniques
Week 3: Meditating with Animals; Healing Treatments for the Self and Others; Creating a Reiki Space
Week 4: Treatment on Animals
Week 5: Symbol and Mantra 1
Week 6: Symbol and Mantra 2
Week 7: Symbol and Mantra 3
Week 8: Review and Discussion
Animal Reiki for Reiki Practitioners Testimonials:
[testimonial_view id="1"]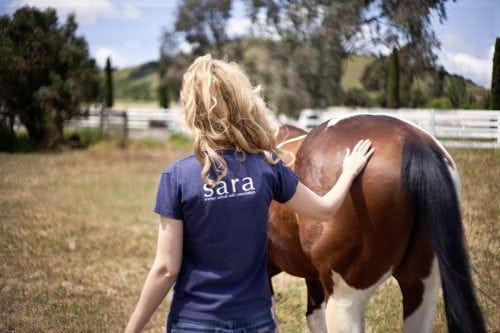 Level 1 Animal Reiki Online Certification Class
This Level 1 online certification course will give you a transformational and in-depth foundation in Kathleen's unique and groundbreaking Let Animals Lead® method of Animal Reiki.
Whether you want to deepen your own spiritual journey with animals or to begin a professional journey towards Animal Reiki Teacher certification, this class is for you! This course is also a great way for Kathleen's Level 3 students to brush up on the basics before teaching a Level 1 course in-person.
Each session will meet 8 times via webinar. In order to receive your certificate, participants must have animals they can practice with daily and must attend at least 7 of 8 webinar meetings. Students must also submit written homework for any week that they are unable to share with the group.  In order to ensure that all students are being supported, registration for each session is limited to 8 people, so sign up before we sell out!
What you'll learn:
The traditional Japanese meaning of Reiki and how it relates to the healing of self and others
Traditional practices of Joshin Kokyu Ho and Seishin Toitsu, and how to use them with animals
The Reiki Precepts, and meditations for working with them with animals
Hands-on Reiki self-treatment, and how to incorporate animals into these sessions
Overview of the Animal Reiki Practitioner Code of Ethics and discussion of its importance when approaching animals with Reiki sessions
Tried and true methods for sharing Reiki with animals and people together
Techniques for grounding, expansion and connection to help you become an animal magnet to even the most sensitive animals!
Kathleen's groundbreaking philosophy of "being" Reiki "with" your animals, rather than "doing" Reiki "to" them
What you'll receive:
Eight 60-75 minute teaching sessions via webinar, recorded in both video and audio formats (Each meeting also includes a guided meditation, distant attunement and time for discussion.)
Daily practice assignments and weekly notes and resources to guide your journey
A free copy of Kathleen's newest e-book, Healing Virtues: Transforming Your Practice Through the Animal Reiki Code of Ethics
A beautiful certificate to show your accomplishment and official certification. This certificate may serve as a prerequisite to Kathleen's Level 2 in-person courses.
An invitation to join SARA (Shelter Animal Reiki Association) as a Practitioner member
An invitation to join a private FB group for Kathleen's Level 1 online graduates, to stay connected with other like-minded animal lovers
Requirements:
Students will need to be able to participate live at scheduled times (attendance required at a minimum of 7 of 8 sessions to receive certification). You must be able to connect via video (preferably) or audio on the webinar platform Zoom.
Students will need to be able to download and open pdf documents in order to read the weekly lessons and assignments. All assignments must be shared either verbally during class, or if that is not possible, written up and sent to Kathleen via email.
Students must have animals to practice with daily.  A variety of animals is preferable (ask neighbors and friends to support you!), but 1 or 2 of your own, at the very minimum, is needed.
Students must commit to 10-20 minutes/day minimum of daily meditation practice during the course (weekly assignments will be given). The main purpose of this requirement is to help you experience the power of Reiki practice in a personal way, thus giving you the foundation you need to build a lifelong Animal Reiki practice. With dedication and commitment, Animal Reiki can heal and transform your life, as well as the lives of the animals you love!
Level 1 Animal Reiki Online Certification Class Testimonials:
[testimonial_view id="2"]