Now available on Kindle and paperback!
Vets on Animal Reiki: The Power of Animal Reiki Healing in Veterinary Practice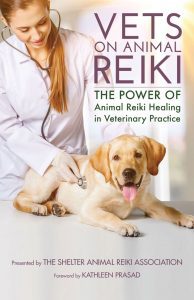 This groundbreaking book explores how Animal Reiki helps support veterinarians in their quest to heal their animal patients. Who better to bridge the gap between Animal Reiki and scientific understanding than highly trained and experienced veterinarians? The personal and powerful testimonials of the vets included in this book will inspire you to incorporate Animal Reiki into an animal's treatment plan. As the variety of perspectives in this book demonstrates, Animal Reiki can provide an ethical and seamless way to incorporate holistic support without interfering with traditional protocols. Thus, having ethically trained Animal Reiki practitioners offering Reiki to patients is a valuable asset for any veterinarian's practice.
"Worth the read if you are a vet, vet tech or work with vets or have a vet. Animal Reiki applied told by those who are doing it. I bought 9 copies and have given away almost all of them to my vets and a rehab vet….all who are now incorporating Reiki into their practices." —Amazon Review
---
As a veterinarian, even a holistic one, it can be a challenge to educate your clients about Reiki and get them to open up to its possible benefits. Click here for a free 1-hour audio course, "Introduction to Animal Reiki for Vets."
Here are a few more ideas about how to incorporate Reiki as a holistic modality at your clinic:
Bring in an Animal Reiki Teacher to teach Reiki to you and your staff.
(You can email Kathleen Prasad for the name of a teacher in your area.)
Since Reiki practitioners do not diagnose conditions or prescribe medical treatments, you can also bring in an outside Animal Reiki Practitioner to work in partnership with you and to support the "healing program" at your clinic either at the clinic or in clients' homes. See the SARA Members page for Animal Reiki specialists in your area. (If you cannot find an Animal Reiki or Practitioner in your area, you can train in "human" Reiki and then take Kathleen's Core Curriculum, which covers all the fundamentals of working with animals.)
Put together a 1-page flyer for your clients explaining what Reiki is and how it can help their animals. Display this flyer in your clinic lobby, and make sure that someone on staff (or a partner practitioner) can be available to answer any questions. (Click here for a printable 2-page information sheet you can copy and hand out at your office.)
How can I incorporate Reiki into my practice?
How can I begin offering Reiki at my clinic?
Note: These recordings are excerpted from Kathleen Prasad's seminar on Animal Reiki, given October 13, 2008, at the American Holistic Veterinary Medical Association's 23rd Annual Conference in Reno, Nevada. Special thanks to Lawrence Media Group for providing the recordings of this seminar.
Kathleen is always happy to offer suggestions and help to veterinarians wanting to incorporate Animal Reiki more fully into their practices. Email Kathleen Prasad at [email protected] if you have further questions.