Meet Our Practitioners
UNITED STATES
I - P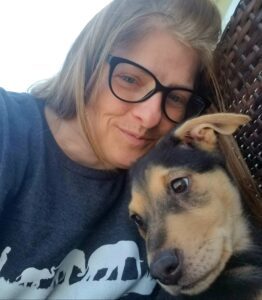 Denise Adleman
SARA Practitioner - Illinois

Denise Adleman is a SARA Practitioner based in Northern Illinois. She spends her extra time volunteering with Katie's Lane Animal Rehab and Rescue. Katie's Lane is a place for any animal to come that needs rescue, rehab or sanctuary. A safe place to help animals in the community to recover and become healthy, happy, and ready to live their best life ever! Denise has been actively studying and practicing energy therapies for more than 25 years. She lives in Roscoe, IL with her three extremely spoiled rescue mutts.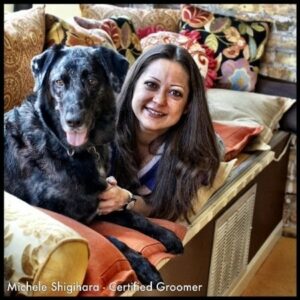 Michele Shigihara
SARA Practitioner - Illinois

Michele Shigihara is a SARA Practitioner based in Chicago, Illinois and has been a certified dog groomer since 2010 specializing in seniors and special needs animals. She graduated from the Academy of Dog Grooming Arts and continues her education at various pet trade shows and online studies. She is certified in Shoden & Animal Reiki Level 1 and Okuden & Animal Reiki Level 2 by Elaine McCarty, of the Animal Reiki Source Academy in the Let Animal Lead method by Kathleen Prasad. Michele is currently enrolled in Holistic Animal Studies at Angels Animals and is working towards certification in Myofascial Release for Animals. She is looking forward to volunteering at the Red Door Animal Shelter in Chicago and spends her time with Piggy, her rescued Siberian Dwarf Hamster.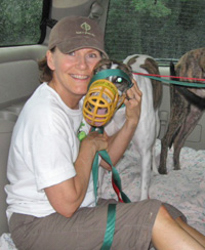 Suz Letschin
SARA Practitioner - Maryland

Suz Letschin is an animal Reiki practitioner from Forest Hill, Maryland. She trained with Frans Stiene of the International House of Reiki and with Kathleen Prasad.  She has volunteered with a local Greyhound rescue group for the past 20 years. Six years ago, she and her husband started a program at their local hospital gifting Reiki to cancer patients.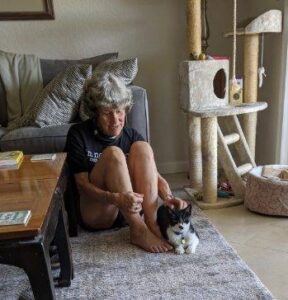 Karen Satz
SARA Practitioner - Massachusetts and Florida
Karen Satz is a SARA practitioner who practices in both Massachusetts and Florida.  She began her Reiki journey when her beloved cat, Decaf responded well to Reiki.  She has studied with Kathleen Presad of Animal Reiki Source and Frans Stiene of the International House of Reiki.  She volunteers at Angell Memorial MSPCA in Boston.
Annie Matias
SARA Practitioner - Ashfield, Massachusetts

She offers distant and in-person Reiki sessions to all animals, as well as people and the land. She has been honored to offer Reiki for her friends and family's rescue animals, as well as for pets who are in the dying process. She loves walking in the forest where she lives and offering Reiki to any wildlife and nature beings that wish to receive the energy.
Annie is also a certified Shamanic Light Healer, Shamanic Reiki Master Practitioner, and Qigong Healer. She lives with her husband Derek and her rescue dog Gracie.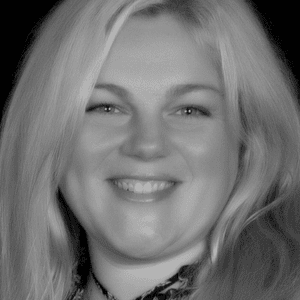 Lauren Scott
SARA Practitioner - Michigan

Lauren Scott is a SARA practitioner that owns a business in Rochester, Michigan. They do Reiki, Animal Reiki, and Reiki classes. She takes her membership at SARA very seriously and is available for volunteer Shelter Animal Reiki in person or virtual.
Judy Clucas
SARA Practitioner - Montana
Judy Clucas became a SARA Practitioner in January 2020 and is based in Missoula, MT. She spends her extra time volunteering with AniMeals Shelter and Food Bank in Missoula, MT. AniMeals is a non-profit organization that provides shelter to abandoned animals and finds them their forever homes. AniMeals also provides food to animals whose owners cannot afford to feed them as well as helping neglected and abused animals, critical care for homeless animals, assistance for families in crisis, animal foster programs, assistance for the homebound and disabled pet owners, seniors program, spay and neuter program, and hospice program.
Judy likes to travel and is always happy to go anywhere there are animals. During her travels she likes to volunteer her animal Reiki abilities while promoting animal welfare. She lives in Missoula, MT. with her husband Tom and all her neighborhood fur babies.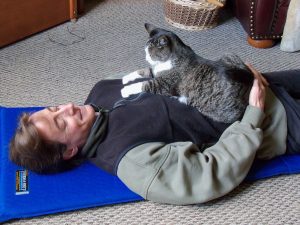 Elizabeth Dunn
SARA Practitioner - Montana
Elizabeth is a SARA practitioner from Stevensville, Montana. Her path to reiki began many years ago, and her beloved cat, Miss Kitty, was her first teacher. A personal healing journey further affirmed her ability to work with the dynamic aspects of universal energy.
Elizabeth was led to reiki certification for animals and people while volunteering at the Humane Society of Western Montana in Missoula. Becoming a certified reiki practitioner was the perfect way to blend her deep connection and love for animals and nature with her passion to benefit others as a healer.
Elizabeth brings years of experience as a licensed veterinary technician to her work with both small and large animals. She offers pet-sitting services, in-person reiki sessions, and provides reiki for animals at area rescue organizations. She enjoys hiking, backpacking, trekking in Nepal, yoga, travel, and Tibetan Buddhist study and meditation.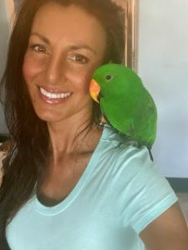 Brandy Lovingier
SARA Practitioner - Nevada
Brandy Lovingier, a SARA practitioner is located in Las Vegas, Nevada. She is an Animal Reiki Practitioner/business owner where she provides Reiki along with sound therapy and vibrational healing. Brandy is currently training to become an Animal Reiki Teacher. For some time now, twice a month, she volunteers at Windy's Ranch and Rescue. Brandy loves spending time with animals and works closely with parrots, bunnies, cats, dogs, pigs, chickens, horses, goats, donkey's and ducks. In her spare time she loves being outdoors with nature and wild animals, as well as painting. She aims to bring animal awareness and animal respect to her community and to all she encounters. Distant healing and in person treatments are available.
Suzanne Bird
SARA Practitioner - New Jersey

Suzanne has practiced various Reiki styles for several years, and recently received her three levels of animal Reiki training with SARA animal Reiki Teacher William (Bill) Stevens.  Thanks to Bill and SARA Practitioner Sally Williams, she now volunteers as an Animal Reiki Practitioner and cat socializer at the Monmouth County SPCA.  She lives in Tinton Falls, and owns a nearby relaxation business where she offers Reiki sessions, Reiki classes and stress reduction workshops for humans.  She is owned by three indoor rescue cats and a backyard TNR, and her passions include yoga, spending time in the woods, and studying Bön Buddhism.  Suzanne and her husband also help a local TNR rescue group. She is grateful that her cats remind her to meditate - often by sitting on the empty cushion. Suzanne is available for both distance healing and in person treatments for animal companions and humans.
Elizabeth Maginnis
SARA Practitioner - New York

Elizabeth is a SARA practitioner based in Rochester, New York. She focuses her volunteer time on zoo and sanctuary animals. When not spending time with animals, Elizabeth enjoys playing Scottish fiddle and piano, practicing yoga and working out. She and her husband live in Rochester very close to the city zoo.
Diane Donahue
SARA Practitioner - New York

Diane Donahue is a SARA practitioner and RMT based in Port Jervis, New York. She became director of a non for profit animal sanctuary where she exclusively use the SARA method Let Animals Lead®.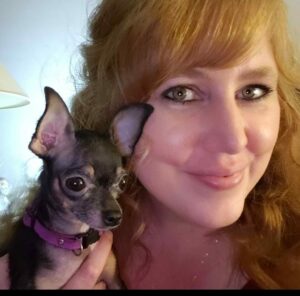 Amy Gibson
SARA Practitioner - North Carolina

Amy Gibson is a SARA Practitioner based in Wilmington, North Carolina. Amy is a Reiki Master Practitioner, an Animal Death Doula, and owns a compassionate pet care service in Wilmington. She provides in-home pet Reiki, distance Reiki, and pet death doula services virtually throughout the world. Amy holds her Reiki Master certification in the Usui System of Natural Healing (Usui Shiki Ryoho) and holds certification in the Let Animals Lead Method of Animal Reiki. Amy is a proud member of the Reiki Healing Association and the International Association of Reiki Professionals. She lives with two dogs (Nola Grace and Belle). She enjoys living close to the ocean, meditating, collecting crystals, and visiting New Orleans as often as she can.
Susan Geiss
SARA Practitioner - Ohio

Susan is a SARA Practitioner and an Usui/Holy Fire III Reiki Master residing in the Cincinnati, Ohio area. Susan has always had an affinity to working with animals, especially those in need. She has volunteered in many different animal rescues, some of which are Save the Horses in Cumming, GA and the League for Animal Welfare in Batavia, OH. These experiences have given Susan a wealth of experience with a variety of animals, from dogs and cats, to goats and horses. With her kids all grown, she currently shares her home with 3 dogs, a horse and her husband. She is the proud owner of Reiki Centered Healing.
Susan offers both distance and in-person sessions. She loves to work with all animals and the people who care for them. She is thrilled to be able to share this peaceful modality with so many!
Heidi Hart-Zorin
SARA Practitioner - Oregon

Heidi Hart-Zorin is a SARA practitioner who lives in Portland, Oregon.  Heidi's interest in Animal Reiki began while reading a book written by Kathleen Prasad in hopes of supporting her rescue dog Skye and adapted rabbit Patsy.  After receiving distant Reiki with Kathleen Prasad and seeing the positive impact with Skye and Patsy, Heidi went on to complete Animal Reiki trainings with Kathleen Prasad and SARA teacher Victoria Kress.  Animal Reiki has been a blessing and fulfills a lifelong dream of helping animals and showing gratitude for all the gifts and grace animals have brought to her life.  Heidi seeks to connect with all animals and nature in a compassionate, heart-centered way in person as well as distant Reiki treatments.
Jean Nesta-Berry
SARA Practitioner - Oregon

Jean Nesta-Berry is an Animal Reiki Practitioner/Teacher who lives in Cottage Grove, OR (just south of Eugene). She offers in person and distance Reiki sessions to animals, as well as teaches a variety of Animal Reiki classes. She initially took a beginning Reiki class, for the self-healing aspect, and immediately knew she wanted to learn how to offer Reiki to animals. She learned about Kathleen Prasad in that class, contacted her, and began training with her. She'd finally found a way to pursue her heart's desire, working with animals. She volunteers offering Reiki at Duchess Sanctuary in Oakland, OR, which is home to almost 200 horses and donkeys.