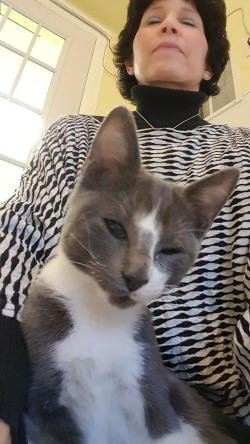 Every week I am honored to be able to offer reiki meditation to the animals at Baltimore Humane Society and the past several weeks are no exception. Several of my sessions are spent with 2 adorable kittens that have Cerebellar Hypoplasia – they shake and wobble a lot due to under developed muscle coordination. Mussle and Oyster will live a healthy life, but the goal is of course for them to be adopted sooner than later especially since they have been in the shelter for over 5 months and they are almost a year old…
My first session with them (they are together in a well padded floor, lots of cubbies and toys to play with!), they were very reserved and did not come over to me, but after 15 minutes they did take a nap which lasted for 30 minutes or so. I thanked them both for sharing such a wonderful healing space and they continued to nap as I quietly left their area.
The 2nd session was amazing! Once inside their room (which is yellow-perfect for healing and soothing), I brought a cushion to sit/kneel on during my sessions and immediately as I situated my self, Mussel, the grey and white kitten came over to me and made himself comfortable in my lap! (did the best with videoing while still keeping the healing space)
His purring was so loud that it assisted me to go even deeper in my meditation!
Offering Reiki Meditation to a kitten with Cerebellar Hypoplasia
His brother Oyster was napping when I came in their room. Sharing this beautiful energy I noticed Mussel's shaking of his head was much less and when he did decide to move around the room to get something to eat he was slightly more stable in his walk. He welcomed the camera as you can see below!
A little later Oyster woke up and also came over to me, though he was more interested in my seat cushion and the ties which became a play toy!
After a couple of minutes, Oyster went over and ate and drank some water and went right back to napping. Trusting the reiki energy to go where it needed to go, I am blessed to witness a calmness in them both. For the 45 minutes, the shaking and wobbleness was decreased especially while sitting and eating!
Mussel playing with seat cushion
The video below was recorded 11-19-16 which was the following week from the visit recorded above ….and….guess what?
Wonderful news for them… They were both adopted together that week to a loving and compassionate family! It is such an honor and blessing to be part of animals life being Reiki for them.
Oyster the kitten, receiving Reiki energy!
Dulsanea Naedek
SARA Practitioner