World Animal Reiki Day 2022 Photo Albums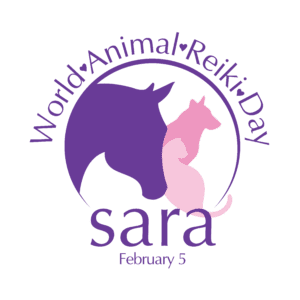 "#WorldAnimalReikiDay at The CARE Foundation! Loved honoring and thanking all the amazing animals and spending time with wonderful Animal Reiki practitioners ♥️ Our unique method of Animal Reiki is loved by all species! #LetAnimalsLead" —SARA VP Leah D'Ambrosio and Nicholas Pearson
"This weekend's class with SARA VP Leah D'Ambrosio to share the #LetAnimalsLead®️ method of Animal Reiki was such a humbling experience. Together we celebrated World Animal Reiki Day and made some incredible memories at the C.A.R.E. Foundation." —Nicholas Pearson
"Happy #WorldAnimalReikiDay friends! Give your animal pals lots of gratitude and LOVE today! ❤️" —Kelly McDermott-Burns, HeartSong Reiki
"Our Valentine and Juniper after distant animal reiki circle celebrating WARD 💕" —Amber Shaner
"💜🤍💓I'm celebrating #WorldAnimalReikiDay in quiet reflection…cherishing & honoring each and every animal in my life & on our glorious planet!🌎The gifts they bring and teachings they share are abundant!☀️" —Karren O'Sullivan and her beloved dogs, Rupert & Jasper
"Happy World Animal Reiki Day everyone! Tell your animals one extra time today that you love em and tell them why! ❤️🥰🐾✨" —Ali Carrington, Reiki with Ali
"Sharing the Reiki space with my oldest kitty, Hope, on World Animal Reiki Day 2022…" —Sheryl Schlameuss Berger, Reiki For Your Life
"Chai and I enjoying the day after the online meditation session we hosted." —Sherry Morgado
"Honoring the animals who have graced my life on #WorldAnimalReikiDay" —Mary Riposo
Robin Grabowski celebrating WARD 2022 with her cat!
Darlene Collisson and her dog Skip celebrating WARD 2022.
"Happy peaceful and loving World Animal reiki day. 🙏" —Anita, Heart of Reiki
"As it's World Animal Reiki Day, it seemed rude not to give a little reiki to my pets today. Some heart chakra love for Riaz for neck and shoulder tension. Healing energy to Beth's heart, a nice boost for a senior dog. And finally the same for our senior tuxedo cat, Smiley." —Hoof to Tail Healing
"Today is World Animal Reiki Day–a day of honoring all animals and those who help them through Reiki, and of raising awareness of the healing benefits of the Let Animals Lead® method. (Reiki is meditating with pets to help them heal.) CHS has volunteers who perform Reiki for pets at all 3 locations, and is a member of the Shelter Animal Reiki Association. Thank you to the CHS volunteers who provide this service to the pets, including Lisa here!" —Lisa, CT Humane Society
"Happy World Animal Reiki Day! 💚✨" —Jade Paws
WARD 2022 celebration from Reiki by Jesse!
"It's World Animal Reiki Day ,February 5th 2022. Today is a day to spend more time with your furry and feathered friends and enjoy the bond. Lets join together and raise awareness in the world to raise the need "To Let Animals Lead® in Reiki"" —Natural Treatments Reiki
"Young Barry certainly enjoyed his first Reiki session & on World Animal Reiki Day… how special is that! He settled in & found some peace. Well done Barry!" —Melissa Warren
"On World Animal Reiki Day I have lit a candle to remember all my reiki animal teachers. The sculpture represents my boxer Kizzie who went over the rainbow bridge shortly before my friend's cat Sharon also passed. I also have topped up the bird feeders too and managed to capture some of the birds feeding. It is a beautiful (if chilly) day here in the UK." —West Hyde Reiki
"Celebrating World Animal Reiki Day with some awesome two legged and 4 leggeds!!!" —Ronni D. Worden
A WARD 2022 celebration with Zsuzsanna Reinhard, Touched by Reiki
"I honor all my animal teachers and especially want to dedicate today to my beloved Casper, who started it all for me by guiding me through meditation and helped honing my reiki practice. I miss you dearly." —WARD 2022 art by My Dirty Paws
"Reiki with animals looks much different than with people. I had the joy of having a second session with this sweetheart today. 😻 I'm so thankful for animals!!!" —Heather, GROUNDING
"Animals are more highly evolved spiritual creatures than we are. They are our beautiful, patient, kind and loyal teachers. On this World Animal Reiki Day, may we take a moment and show gratitude to our teachers ✨💛" —Taya, Roots Reiki
A WARD 2022 celebration from Sarah Faulkner.
"Today is WORLD ANIMAL REIKI DAY! Started by Kathleen Prasad we honour all the animals around the world and express our gratitude for them." —Dana Smithers, Animal Energy Healing
A WARD 2022 celebration from Bowen Therapy for People, Dogs & Horses.
"Very Happy #WorldAnimalReikiDay love & light to all from Jayne & Noah" —Jayne Annis
A WARD 2022 celebration from Susi Rosinski, WNY Qigong, Academy of Qi.
"What better way to start World Animal Reiki Day than with Sydney, my greatest teacher, on the frozen trails. When asked if he wanted to go with us, Twisty said he was happy just to stay home and meditate (yes, Twisty is another great teacher) 🐈🐕💕" —The Peace Room
A WARD 2022 celebration from Charlotte Erika Walker.
"Today is dedicated to Marty, who started it all. Thank you for always allowing me to practice Reiki and help me hone my skills. You are a very special lady and will be sadly missed. 🐶🌈" —Kiboko Ki Animal Reiki
"Sharing beautiful healing Reiki energy with my pups this morning 🙏💙🐾 I joined SARA teacher Sherry Morgado for an online World Animal Reiki Day Meditation and it was wonderful. Pepe was enjoying it so much that he came on my lap in total relaxation 🥰🐾." —Lulu Barnad
"It's World Animal Reiki Day!! ✨🐷🐰🐯✨ I'm spending the weekend with some amazing animals in an Animal Reiki for Reiki Practitioners class! This pig was loving the beautiful energy of the day! 💗" —Sarah Kathryn Reynolds
"Helped transport a cat, dog and a grebe from shelters to safety so they can find loving homes/ safe places to live in honor of #WorldAnimalReikiDay" —Kathryn Greco
"Oscar is getting ready to celebrate World Animal Reiki Day today! World Animal Reiki Day was established by Kathleen Prasad and the Shelter Animal Reiki Association (SARA) to raise awareness around the globe of the healing benefits of the Let Animals Lead® Method of Reiki for animals, as well as honor all animals as our spiritual teachers." —Fosters and Ferals
"Happy #WorldAnimalReikiDay to all my friend" — @myboyhumph on Instagram
"Do I treat my own horse and dogs? Of course! Here I am giving my best buddy and partner John a Reiki session." —Maddy Freeman
A WARD 2022 celebration from @animalreikiray on Instagram.
"Happy World Animal Reiki Day to this special boy who is my meditation partner & my greatest teacher, and to all the animals on the planet past and present." —@cultivatinghealthwithsusan on Instagram