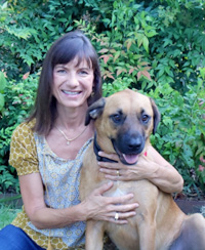 Karren O'Sullivan - Oklahoma
Karren O'Sullivan lives in Tulsa, Oklahoma.  She believes in the healing power of animals and being in service to the community of shelter and sanctuary animals along with their staff and caregivers.  As a Reiki III practitioner and teacher, she is committed to living her passion by offering Reiki healing to animals of all kinds in gratitude for their service to humanity.  She is open and willing to discuss travel options for teaching SARA Reiki classes and providing both in person and distant Reiki treatments for pets. In Karren's spare time, she volunteers at the City of Tulsa Animal Welfare Shelter.
ARTICLES BY KARREN O'SULLIVAN
TESTIMONIALS
Level 1 Reiki & Reiki for Animals
"Reiki is a great compliment to any spiritual path.  It was warm, comfortable, and also exciting to know you can use meditation to help heal yourself, others, and animals.  Great job Karren! You're a fantastic teacher." -Kristin Dickerson
"Karren is a very compassionate person and great teacher. As the scope of this practice spreads to more people it will no doubt benefit the community and our society. I'm very happy that I had the opportunity to take this class. (Reiki 1 and Reiki for Animals)." -Peter Fleisher
"As someone who is just beginning his journey of healing through Reiki, Karren brings years of knowledge and compassion for each student, individually.  Her ability to be present through this process is so helpful.  Karren reminds you by example how to return to a beginners mind and know that every aspect of this journey is a teachable moment!  Thank you Karren… what a gift." -Gabriel Horn
"Meditating and practicing animal Reiki with Karren O'Sullivan is an amazing and powerful experience, which deepens my intuition by drawing me closer to The Creative Higher Power.
I have always loved practicing Reiki with animals. Working with shelter animals is opening my heart to an ever-expanding realm of possibilities. Most importantly, there is nothing more beautiful than feeling the flow of Reiki energy lift an animal out of the fear and suffering of the moment and seeing her reawaken to the healing Eternal essence all creatures share. Thank you so much for this opportunity!" -Dr. Cait O'Darling
"It was a pleasure to learn from Karren. She is very passionate about sharing the healing benefits of Reiki with area animals. It was wonderful to witness her sense of peace and the effect it had on the animals and students in the class. Each of us in the class walked away with a greater sense of self-awareness and the ability to begin the practice of Reiki on ourselves and others.
Karren is a warm, supportive, and positive teacher and practitioner. I look forward to continuing to learn from her and our other teachers, the animals, that need us." -Kris Allison
"The Level 1 Reiki & Animal Reiki class taught by Karren O'Sullivan is an amazing experience. It offered me a chance to have a broader understanding of myself by the practice of meditation and realizing that peace is accessible for anyone willing to devote the time and practice towards it. In return, through practice, it provides an opportunity to allow calmness to yourself, others, animals and the world around you. I highly recommend this class for anyone wanting to know themselves better and to provide a sense of comfort to their pets." -Byron Shen
"The class was very helpful to me. It showed me a different way of dealing with the stress in my job and every day life. Also I think that it will help in dealing with animals who come in very scared so they may have a better chance of getting a adopted." -Mari
"I was asked if I would be interested in going to a class on Reiki with a few of the staff. I of course said what is Reiki? I was under the impression I was needed to assist the Reiki teacher with moving dogs around for her to be in a quieter atmosphere like an empty room since she had to meditate with the dogs. I thought the process would be interesting and I had unsuccessfully meditated with my teenager, while animals are a little different than teenagers (not by much) I thought an extra hand would be a help. I googled the word Reiki and found only a little information and that it was meditation. That's really the sum of what I knew about the subject.
The first day I was a willing participant but honestly a little skeptical of how it could help the dogs? Towards the end of the day I did find it relaxing. We had a few breaks, which I spent talking to the dogs; a Pit Bull who had been fighting especially caught my attention. He was pretty swollen in the face and his left ear was bloody and he kept tilting his like it hurt. I told him he would be okay and to take some of my energy I just found and get better. The class ended soon and left me with a feeling of this is kind of weird, I don't really get it but I will come again on Sunday. There was just so much I did not understand. I always felt that people had energy and now I had so much to google!
Sunday came, although I didn't have much time to do any research. Our first meditation Karren asked us to pick a dog. I picked a black Rottweiler on the first row that had been there quite awhile. He is so big for his little cage and seemed to be getting a little depressed. As we meditated on our animal the beat up pit bull kept coming to me, he was in perfect shape had a beautiful brown coat and stood tall and confident like Pits are. He was on a bridge and somehow I felt he was telling me he had a bad life and was glad that life was over. That he was ready to go and that he really was okay. As I saw this male Pit in my meditation my emotions where how do I stay THERE. I could feel my heart beating and my tears. This is not me, I thought now I was weird!
I had to pass on the sharing of that meditation because I didn't know what I was feeling. Now here comes the weird part…it was break and I was playing with the dogs and when I went to my beat up Pit Bull his face looked so much better that on Saturday. His face was barely swollen and he had a little more pep in his step, although even with his injuries he was still so loving.
We returned to class and Karren talked about the how Reiki helped animals with the healing process and also with the dying process. This is really the first time I had heard this or really understood it. Although I am still trying to understand it all I am definitely going to do that research and all the things Karren said to do for 30 days…How could I not?" -Ann Stiles