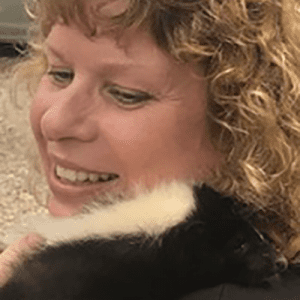 Laura Thomas - South Carolina
Laura Thomas is SARA teacher in South Carolina. She believes in being of the highest service to animals and honoring all animals as teachers and healers. Laura currently volunteers with Cotton Branch Farm Sanctuary and a local kennel/trainer who works with dogs from shelters to make them more adoptable. She is a lifelong horse lover and especially loves teaching Reiki for Horses. In addition to her animal Reiki and communication practice, Laura owns a pet and farm sitting business. She teaches and practices in the midlands of South Carolina and is open to travelling to teach classes. She shares her farm with many rescued animals who are her greatest teachers.
ARTICLES BY LAURA THOMAS
CLASSES TAUGHT BY LAURA THOMAS
Reiki Level I & Animal Reiki Training:  The Basics
Shoden and Animal Reiki Training
Introduction to Animal Reiki/Meditations with Horses
TESTIMONIALS
"It is obvious you have put much time and thought into the organization of this class. It flowed easily. I suspect that is because you are not "married" to the syllabus or have to present in a strict order. Therefore, you can accommodate situations like the weather or people leaving early, without shortchanging anybody or any topic you want covered.
I know you are totally comfortable and knowledgeable with regard to the material. Your personal stories enhanced the discussion. I think every student felt listened to, respected, and supported when they chose to share a thought, experience, or personal observation. Yet if we digressed or got off track, you followed appropriately and returned us soon to the topic at hand. The meditations were not only lovely, but perfect for both students who had some experience and the "newbies." The activities like the animal cards were very fun but also purposeful. I appreciate the vast resources you're familiar with and shared.
I think one of the best compliments I can give you is when I would occasionally check the time, I was amazed at how much time had passed! I felt that you kept everyone very engaged, present, safe, and interested in class. It was a safe and nurturing environment when emotions showed up. I thoroughly enjoyed the weekend and thank you so much! You own this class! Just great!" – Joy
"What an amazing weekend spent learning to share out positive energy to the animals! Excellent teaching style!" – Donna P.
"Many who know me, know I'm skeptical of anything other than science; this class was not what I expected! It truly helped me connect more with myself and, in turn, the animals. I highly recommend it for anyone who works in rescue and sanctuary work, and really anyone with animal companions in their life! If I invited you, it is because I think you will benefit from and enjoy this class!" – Josh, director Cotton Branch Farm Animal Sanctuary
"This class was very informative, interactive, and I feel very prepared to learn more and practice what I've learned." -Joshua
"I think this is a great intro for those (like me) that have no previous experience." -Tara
"Laura, you were insightful and interesting. Thank you for helping me expand my universe." -Su
"AWESOME!" -Jan
"Had a fantastic, exciting, education, and humbling 2 days. I made some wonderful friends and learned so much. Thanks Laura!" -Michelle