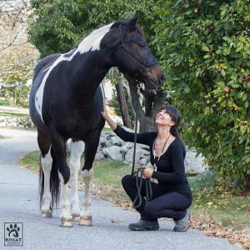 Linda Crabtree - Massachusetts
Linda is a SARA teacher living outside the Boston area.
Czammy, Linda's first partner and equine teacher is the reason that Linda studied and practiced to become a Reiki Practitioner/Teacher and to create her business in 2007, with the intent to offer Reiki not only to equines, but to all animals, and to teach Reiki to humans so that they can offer this healing energy to the animals in their circles of life.
Linda is associated with and offers Reiki to animals through two integrative veterinary care centers. Linda has volunteered at Lucky Horse Equine Rescue, Tomten Farm and Sanctuary, and MSCPA at Nevins Farm. Linda offers meditation classes at equine therapy centers to support the equines and humans on the therapeutic team.
Linda and her equine partner and spirit horse, Ka.Wa, have fun together doing groundwork, trail rides, dressage, western, and simply being together.