World Animal Reiki Day Events
Find an event near you!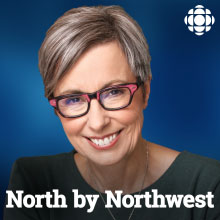 Nanaimo SPCA Reiki Team Radio Interview
Location: Tune into NorthbyNorthwest Radio program on CBC (Canadian Broadcasting Corporation) or click here to download the Podcast.
Date: February 16th, 2019
Time: The interview will air between 7:00 - 9:00 AM
Details:
Lori and Anne Marie of the Nanaimo SPCA Reiki Team were interviewed by Sheryl Mackay, the host of NorthbyNorthwest Radio program on CBC (Canadian Broadcasting Corporation).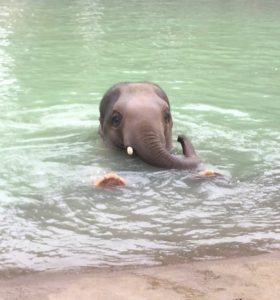 World Animal Reiki Day the Zoo
Location: Oregon Zoo (meeting at the cafe to the right of the entrance once you're inside)
Date: Sunday, February 3rd
Time: 10am to 12pm - Please be inside the zoo at the cafe by 10am
Contact: If for some reason you can't make it, please be sure to contact me via email at ladambrosio@gmail.com or phone (805-748-8983). Please feel free to allow your children to invite their friends if you think they would like to participate, just be sure to let me know how many are coming.
Price: Entrance fee to zoo (everyone responsible for their own tickets)
Details:

This year, I thought it would be a wonderful time to share this with kids - so thank you to each of you for being open and willing to come share the day and your children! We will start off by meeting at the cafe inside the zoo across from the big gift shop (everyone will be responsible for paying their way into the zoo) and talking a little bit about what the day is about, how we can connect to the animals with our hearts and what signs the kids can look for to confirm the animals are hearing them. Then as a group we will visit some of the bigger highlights like the lions, tiger, elephants and monkeys and of course the farm animals.
This is really exciting as I've been wanting to do animal Reiki with kids and this is a great starting point - so thank you for your openness in coming and trying this out! I think we will all have a really great time!
World Animal Reiki Day Facebook Live Animal Healing Meditation
Location: Watch our special Facebook live event here!
Time: February 5, 2019 at 6:00 PM Pacific Time
Contact: info@animalreikisource.com
Details:
Kathleen Prasad, President of SARA, will lead a healing meditation and discussion on animals as teachers as healers with her special guest, Amanda Ree of Sama Dog. Join us at 6pm Pacific time Feb 5 on the Animal Reiki Source FB page!
World Animal Reiki Day at Integrative Veterinary Service
Location: 21180 W. Capitol Drive, Brookfield, WI 53072
Time: February 5th, 2019 6:30-8:30pm
Contact: Space is limited: sign up today! Pre-registration is required.
Contact Tiffany Kneeland at (262)-506-4960 or soulflowerwellness4u@gmail.com.
Details: Come help us celebrate at Integrative Veterinary Service during this special FREE event!
An Introduction to Animal Reiki workshop will be offered, along with snacks and a raffle. Donations will be accepted for JR's Pups-N-Stuff animal rescue. Participation in a short meditation and Reiki share will be encouraged. Please be aware: small dogs will be available for Animal Reiki practice during the event, please do not bring your own pets.
Your Teacher: Tiffany has studied with Kathleen Prasad and is a Reiki Master Teacher through the Usui Reiki Ryoho lineage and is a member of SARA, the Shelter Animal Reiki Association.
Free Class: Introduction To Reiki For Pets
Location: 8868 S. Eastern Ave. Suite #115, Las Vegas, Nevada 89123
Time:February 10, 2019 at 12 PM – 1 PM
Contact:Please leave your pups at home for this special event. Non members welcome. All guests must be 21+. RSVP required. Call 702-518-6439 to reserve your spot.
Your Teacher: SARA Teacher Jamie Lee
Details:
In honor of World Animal Reiki Day, please join us for a FREE introduction to Reiki for pets class taught by Jamie Lee.
Reiki for pets focuses on meditation with healing. The secret to healing is found in the quiet bond we share with our pets. The way to access that space is through meditation.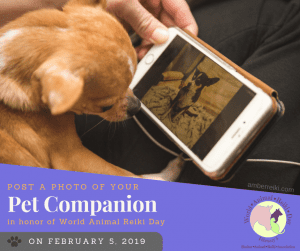 World Animal Reiki Day Raffle
Location: Amber Shaner Animal Reiki Facebook
Time: February 5th, 2019
Host: SARA Teacher Amber Shaner
Details:
Have you heard? It's almost World Animal Reiki Day! In honor of this special day, I'm excited to announce that I'll be hosting a raffle on February 5th.
Simply post a photo of your pet companion(s) enjoying the day here (now through 2/5/19), and your name will be entered into the raffle. The winner will select a book of choice written by World Animal Reiki Founder, Kathleen Prasad!
Valentine or Juniper will choose the winner out of the basket! Stay tuned...
To view Kathleen's books, please visit: https://www.animalreikisource.com/reiki-store/kathleens-books/