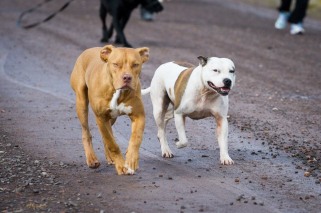 Cleo's Mutley Crew in Scotland is the latest member organisation of the Shelter Animal Reiki Association. Founder Lynsey Murray, a Reiki practitioner and behaviourist, has been taking animal Reiki classes with me to learn some of the methods we use to offer Reiki to shelter animals and give much needed support to volunteers. In my role as a SARA Reiki teacher I offer charities and their staff free training in Reiki and meditation techniques to help support them in the amazing and selfless work that they do.
Cleo's charity rescues, rehabilitates and re-homes dogs from across the UK, literally taking dogs from death row, a problem that is spiraling out of control with 3000 per month sentenced to death through no fault of their own. These intelligent beautiful animals are being euthanized simply for being born in the wrong circumstances – knowledge that Lynsey and her team (and of course many other organisations) have to face daily.
I met Lynsey when she came along to a Christmas event, at The Pet Empawrium the pet and veterinary centre where I practice Reiki, to represent her charity. I had heard of her work and her reputation as someone who never gives up on a dog, no matter what their reputation. That afternoon she had to go off and collect a puppy (rescued at 2 weeks old, now 10 weeks) who was with one of her network of trusted foster carers and about to go to his new home that night, she asked if I would look after her collection can while she was away. She duly returned with the most adorable, big lump of a puppy! An American Bulldog mix, he was just the friendliest contented puppy attracting lots of attention, and, as his story unfolded, you could see the shock and tears reflected in the eyes of the crowd gathered around him. illegal dog fighting is a sickening reality in our world today and it takes people like Lynsey to deal with just some of the casualties, these are the lucky ones.
Lynsey set up the organisation, named after her own rescue dog Cleo, to take 'death row dog's' from across the UK and re-home them in Scotland where they receive veterinary care and behavioral rehabilitation if necessary. She uses a range of holistic therapies, Reiki and natural feeding to give these dogs the best possible start in their new life.
The charity has many success stories with dogs being re-homed to loving families including the pup and his litter mates, his name is Lucas and he is growing into a handsome chap ! Lynsey's own dog Walter is another credit to the charity – he attends classes with Lynsey and is the perfect gentleman, Walter now helps to calm and reassure some of newer rescues and has a natural talent for healing.
As SARA's philosophy is to take Reiki to where it is needed most and not only to support the beautiful animal souls but the humans who do this incredibly difficult, often thankless and always heart wrenching work – I am delighted to welcome Cleo's Mutley Crew to the SARA family.
Alison McKinnon
SARA Teacher