An Awakening to the True Essence of Reiki
Until one has loved an animal, a part of one's soul remains unawakened.
— Anatole France
The animals at the C.A.R.E. Foundation in Apopka,Florida opened my eyes to a deeper meaning of this quote by AnatoleFrance.  These sweet animals offered me the opportunity to experience a true connection with them, a heart-to-heart connection that was very powerful.   When we truly connect or bond with an animal, we open or awaken our hearts and minds to the many teachings and lessons about life that the animals have for us.  I have read this and heard this many times from my Animal Reiki teacher, Kathleen Prasad, but it was the animals at C.A.R.E. that offered me the opportunity to experience the power of this deep connection with the animals.  I will be forever grateful to these animals (and to Kathleen) for helping me to understand the true essence of Reiki.
My Reiki journey has taken me down a path of growth which began in 2002 when I had my first Reiki treatment.  This path has been like building a puzzle. After I completed my Reiki Master Teacher training in 2005, I lacked confidence and felt that I was missing some important pieces to this puzzle called Reiki.  Many of these missing pieces became clearer to me when I began studying Animal Reiki with Kathleen in 2007, and again when I completed my Karuna Reiki© Master training in 2009.  The puzzle began to fill in even more when I joined the Shelter Animal Reiki Association (SARA) in 2010, and learned the Japanese energy system and traditional Japanese Reiki meditations.  But, I still felt that there were some missing pieces of the puzzle that I needed to be a more effective practitioner and teacher of Reiki for Animals.
One day, I received an email from Kathleen introducing her Shinpiden and Animal Reiki Teacher class at the C.A.R.E. Foundation.  After some consideration, I was inspired that this class would be important for me to advance my Reiki journey.  Not only would I have first-hand experience learning the traditional Japanese approach to Reiki, I would also have the opportunity to experience offering Reiki to wild animals.  And my intention was that I would learn to be a better Animal Reiki teacher.  I did experience all of these things as expected.  But I gained so much more from this experience than I could ever have imagined; I finally understand Reiki.  The animals at the C.A.R.E. Foundation taught me valuable lessons just by allowing me to share Reiki with them.
Lesson 1:  Reiki is about creating a "connection" with the animal(s)
So often, I hear people ask "My animal has this or that issue going on; will you give him or her some Reiki?"  I also hear many practitioners talk about "doing Reiki" on an animal (or a human).   When I speak to a group about Animal Reiki, I am often asked if I will demonstrate Reiki on an animal.  And for our Reiki Shares, we often talk about "Reiki trades", where I give you some Reiki and then you give me some Reiki.
The lesson I experienced with the animals is that Reiki is so much more than these things.  I have learned over the years that Reiki is not about "give" (practitioner) and "take" (client), and that we are not "doing Reiki" on an animal or human.  Instead, we want to "Be Reiki" with the animal.  As we sit with the animal, we are sharing a space of Reiki energy, a space of balance and harmony.   This is not something we can demonstrate; it is something we must experience. It is like a two-way partnership.  The more we invite animals in and connect with them, the more we can assist our animals and the more we can learn from them.
Famous Amos
Amos is a fun and amusing Spider Monkey whose role is to provide entertainment at the sanctuary and at various shows.  He shares an enclosure with another monkey named Rosie.  Our exercise was to sit with the animals while doing one of the traditional Japanese meditations.  So, I sat facing the enclosure with my chair at a slight angle.  I invited both Amos and Rosie to join me in the space of Reiki energy.  While Rosie did everything she could to disrupt what was happening, Amos expressed an intense curiosity in me and in the energy.
Amos started by coming to the front of the enclosure near where I sat, pushing himself into the fence and reaching out as if he was trying to touch me.  After a few minutes he moved towards the back of the enclosure, and then moved forward again playing with his toys and showing off.  He then moved back to the fence, leaning out and chattering at me. This ebb and flow of movement continued for 10 or 15 minutes.  Towards the end of our time together, as I was sitting in meditation with my hands over my Hara, I suddenly felt a shift in the energy and looked up.  There was Amos sitting on top of one of his toys with his legs crossed and his hands over his Hara staring intently at me.  He was mirroring what I was doing.  I looked at him, and felt this intense sense of warmth come over me, as we shared a space of harmony, of oneness, of Reiki.   Amos created for me an amazing experience in connecting with an animal through Reiki.  Thank you Amos!
Macaws and Cockatoos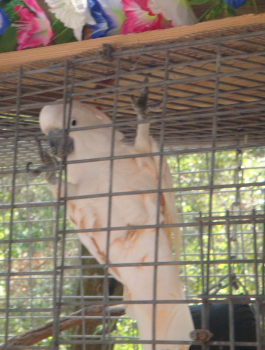 Before C.A.R.E., I had not yet had an opportunity to share Reiki with birds.  A grouping of macaws and cockatoos were most happy to provide me with this experience.  I sat next to their enclosure with my chair pointed away at a slight angle, and then invited all of them to join me in a space of Reiki energy.  My intention was to clear my mind, remove all expectations and just "Be Reiki" with these lovely macaws and cockatoos for 20-30 minutes.  A couple of the cockatoos came forward right away and sat on the perch nearest me for the entire time while the other cockatoos moved forward and then flew back taking turns connecting with me and the energy.
At the same time, the green macaw Zazoo was climbing up and down the fence right beside me.  Each time he was at about eye level with me, he would quietly say "hello" to get my attention.  As I sat there "Being Reiki" with these sweet birds, the ebb and flow of their movement in the Reiki space was so peaceful; it felt like a well-choreographed dance.  Their movements were so smooth and balanced; they were in perfect harmony.  As we came to the end of our time together, I realized that all of the birds had settled into their chosen spot in the dance formation.  We were all "Being Reiki" together, sharing a space of harmony and tranquility.
Lesson 2:  Always invite the animals to join us in Reiki
When we experience Reiki I, we learn about the importance of self-treatments, and we learn to offer Reiki treatments to other humans.  And those of us who experience Animal Reiki learn to offer Reiki treatments to animals.  Self, humans, and animals – each treatment is distinct.
The lesson I experienced with the animals at C.A.R.E is that our daily meditations and practice and our treatments with other humans will be so much more powerful if we invite the animals to join us in Reiki.  The animals are so much more deeply connected to the energy than we are, and they are so open to connecting with us and helping us.  All we need to do is invite them in.  If we sit with an animal and connect with an animal during our daily meditations, self-treatments and treatments with other people, the animals will help us to more deeply connect with the energy.  When we regularly connect with animals by inviting them to join us in Reiki, we are not only assisting ourselves and/or another human, we are also supporting the animals in whatever they need.  And to bring this full circle, the animals are helping us and teaching us valuable lessons.  This really is a win-win-win!
Lola
One of our assignments was to pair up with another class member, sit with an animal and offer each other a head and shoulder Reiki treatment.  My partner and I sat with Lola, a sweet North American Black Bear.  As I began to offer Reiki to my partner, I invited Lola to join us in the energy.  At first Lola sat back against a wood box in the middle of her enclosure checking us out and deciding if she wanted to be a part of what we were doing.  Over the course of the treatment, as Lola slowly inched forward, I could feel her beginning to connect, the energy becoming warmer and warmer as the connection deepened.    Lola eventually moved up closer and sat on a metal tube that was next to the fence in the corner.  At some point, my partner and I traded places.  As we continued, we could feel the energy becoming stronger and more intense.  By the end of our time, Lola had climbed on the fence while sitting on the edge of her pool to get as close to us as possible.  She was sprawled out almost as wide she could get and moving her head back and forth in delight.  She had truly relaxed and let go; she was very content and at peace.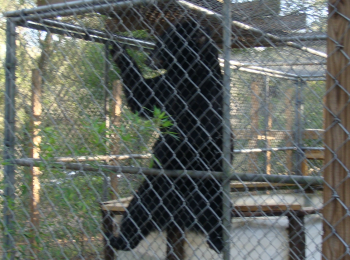 Thank you to Lola for this beautiful experience. By connecting with my classmate and me as we offered Reiki to each other, Lola helped us create a more open space of healing, of harmony, of balance that we were all sharing together.  As our connection with Lola deepened so did our connection with the energy and with each other.  By inviting Lola to join us in Reiki, we not only enhanced our human-human treatments, we also assisted Lola in whatever healing she needed at that moment.
I had so many similar experiences over the three days at C.A.R.E.; there were the tigers Pumpkin and Tigger, Sheene the cougar, Quinn the black bear, the red foxes Butch and Sundance, the tufted capuchins Andy and Dolly, the barnyard animals, the alligators, the pigeons, the tortoises and many others.   My heart is filled with gratitude to all of these sweet creatures for being so open to connecting with me, and for teaching me the power of connection through Reiki.  My heart and mind have awakened to the true essence of Reiki, and to the many ways that animals are our partners in our Reiki journeys.
Ann Noyce, Animal Reiki Teacher