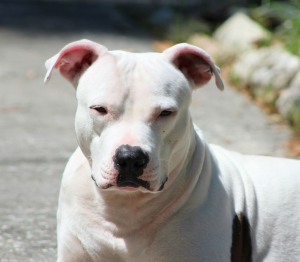 I want to share an experience I had at my local animal shelter. I always arrive early so I have time to ground myself, set my intention, invite the animals and people into the Reiki space and meditate before I go in.
I went in, signed in and started my shift of doing laundry. While I'm doing laundry I always chant out loud or to myself the Cho Ku Rei mantra. Once I got the laundry going, I decided to go pay a visit to the animals in the adoption area.
There weren't many dogs in the dog area because the volunteers take them to PetsMart on Saturdays but there was a dog whining and barking so I went in to see her. She was a pitbull mix white and tan. I started talking to her telling her everything was going to be ok and then I started chanting.
After a few minutes she stopped crying and sat down. We did this for a few minutes and then a couple came in to look at her. I moved away so they could spend time with her.
The woman says to the man she looks like (I forget the dogs name she said) I said hi I'm a volunteer are you interested in her? They said yes she looks just like our dog we used to have. The man put his hand up to the fence and she sniffed his hand. They said they wanted to fill out an application and go to one of the rooms where they could spend time with her! I told them they just made me so happy! I almost started crying!
I told them to go up to the front to get an application and that someone up there would put the dog in a room for them to spend time with her. I went back to doing laundry and came back through later to see them in a room with her. They all looked very happy! I hope it worked out for them to adopt her!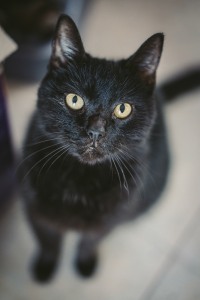 I also went to the cat adoption area and there was a black cat up on the shelf of her kennel. She came down to the front of the kennel. I said hi and started chanting and talking to her.
She started rubbing on the wire of the kennel and then I noticed on the top of her back she had a 2 inch bald area in the middle of her spine that had a big sore. She was showing me where it hurt!
I continued chanting and she went over to her food dish and started eating. After a few minutes I had to go back to check the laundry. I told her I would be back. I came back through later and she did the same thing as before; came down to the front of the kennel, rubbed on the wire of the kennel and then started eating. I spent a few more minutes with her and then went back to doing laundry.
Cindy Buck
SARA Practitioner