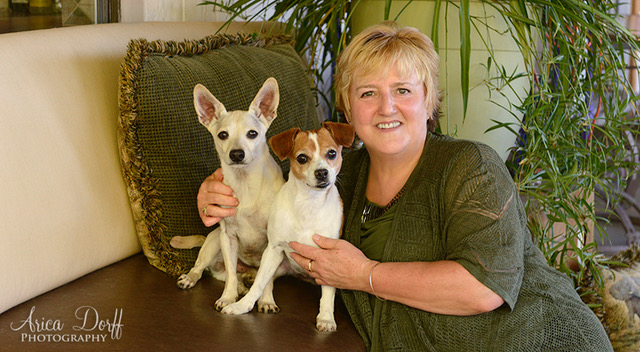 I'm so grateful to be a member of SARA, to have found Kathleen, Leah, and SARA. I started with Reiki 18 – 20 years ago. I learned whatever was taught, usually Western style, but something just didn't ring true with me. I would try, and I wouldn't get it. Each time I would try to walk away, Reiki would tap me on the shoulder again to let me know something was going to happen.

I've gone through all these different teachers, looking, seeking, because I knew there was something to it, even if part of it wasn't ringing true. As I traveled this journey, I knew in my heart that I'm here to help elevate the lives of animals on the planet, something I've always felt. Somehow I never put my love of animals and Reiki together! 

It wasn't until I found SARA, and I went to Brighthaven to take the teacher training, that I knew this was what I had been looking for. There's a lot of Reiki practitioners where I live in Las Vegas, and they're not always very nice. I've had several teachers here who just weren't kind to people in the class, or each other. The SARA way of being honorable, living an honorable life, the Reiki precepts, and how you should live your life, is amazing because you actually live your life that way. I want to live my life the SARA way. I want to be a part of this honorable, professional organization that stands for something that's good.

When I came away, I knew that I gained the confidence that I had been lacking. Previously I didn't have the confidence, didn't really understand it, didn't really like what I was being taught in the other classes, because it didn't make sense that somebody had to "give" me Reiki. We should all have this to begin with, so the idea of being Reiki, of living Reiki, really resonated with me. Now I have the confidence to do things that I had tried to do and couldn't for 18 years.

Things have changed so much, and it's only been two years, since I was out in Brighthaven. Just being able to know that I have people that belong to SARA, that I have Kathleen and Leah in my corner, just gives me the confidence and the determination to bring this message.

I started just contacting shelters and sanctuaries when I got back and, I wasn't getting very far, but I just kept going and finally a woman called me back out at Windy's, about an hour outside of Vegas. She had no clue what Reiki was, and sometimes tells me "I still don't really understand what you do, but whoever wants to help animals is welcome here."

After coming to visit her, she said "I don't know about this 'reekie' stuff, but my animals are different when you're here, and I want you to come out." Some of my students are regular volunteers out there now, because there's a lot of work. It's just her, and she's got a lot of animals to take care of.

I've teamed up with a holistic veterinarian and another trainer here in town, and next month we're starting a pet bereavement support group. Things are just growing on their own. I've been asked to go in and work with the women's shelter for women who have left an abusive situation, to help their dogs. I can't begin to tell you how many lives are being changed because of everyone in SARA. It's not just me -I'm just the one that happens to be located here and is doing it- but it's not me, it's all of us that are changing this community.

I'm so proud to be a part of SARA, and I think it's a wonderful opportunity for us to shine a light on the good that's been going on for the last 10 years. All the work that we have been doing in the world is just phenomenal. I just can't say enough. I'm so proud, and it would not be happening if it wasn't for SARA.

Jamie Lee
SARA Teacher