There are two cat rooms at Rutland County Humane Society where I volunteer every week. Each room has ten or more cats in it. They have all kinds of climbing places and hiding spots and a window to a nice little screened in porch. When I go into the cat room, I take a seat and announce to all the little lovelies that it is Reiki time and that they are welcome to receive as much or as little as they want. I then set the intention that the session is for the highest good of all of us and that whoever needs Reiki gets what they need. I breathe deeply into my hara and imagine the energy expanding out into every corner of the room.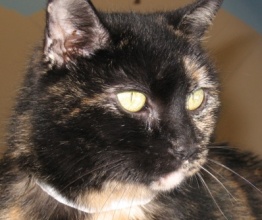 Daisy was a funny little tortoiseshell kitty. When she arrived at RCHS she was missing fur from her lower body due to a severe flea infestation. It was unclear whether Daisy's fur would grow back.
Every time I sat in the one of the cat rooms offering Reiki, Daisy would come over. She would just hover around my feet, looking up at me. After three sessions like this she got in my lap. While I gave her Reiki she rolled over so her bare back was in my hands. When she was done with her session she would give me a little nip on my hand. The next two times I came to the room Daisy was waiting for me. She got in my lap immediately and settled in for Reiki. I noticed her fur was coming back.
On subsequent visits she would come by, but she stopped getting in my lap. I continued to see a change in her fur. It was interesting that she seemed to be done with her hands-on treatments, although she continued to get better. Daisy took complete charge of her treatment! Not long after, she found her forever home.
I have seen the effects of Reiki on my own cat, Murphy, and his excessive grooming. When we met him, stress had caused him to lick and chew the fur off his lower belly and the inside of his back legs. We hoped he would stop now that he was in his forever home. He did stop licking his legs, but his lower belly stayed bare and sometimes had red spots on it.
About four years after we adopted Murphy I learned Reiki. He took an interest in it right away, always coming in the room when I was practicing. When I started working with him directly his fur eventually started to fill back in a little at a time. After some time, he was down to a little patch on his lower belly. Now, his belly and legs are completely covered with fur and have been for a couple of years. I believe Reiki relieved Murphy of the stress that was causing his excessive grooming behavior.