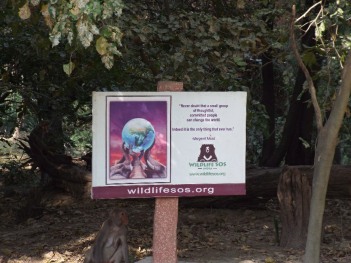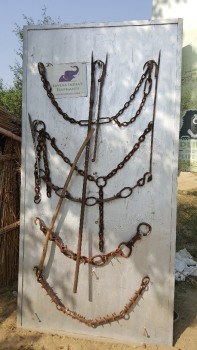 A dream come true on our recent SARA trip to India was to share reiki with the elephants of Wildlife SOS Elephant Conservation and Care Centre in Agra. The charity recently in the spotlight when it rescued Raju from 50 years of enslavement, a brutal life of captivity and cruelty after being taken from the wild as a calf – images of the midnight rescue touched hearts all over the world, they showed Raju crying.
Wildlife SOS Elephant Conservation and Care Centre was established in 2010 in collaboration with Uttar Pradesh Forest Department and actively seeks out elephants in distress, the charity often having to fight through the courts to secure their release subsequent appeals by the 'owners', before ultimately bringing them to the centre where they will spend their retirement in natural surroundings, making friends, a simple pleasure that will have been denied most of their lives while receiving much needed medical care and individual attention. Common medical conditions caused by their captivity include malnutrition not only lack of food but many are fed junk food on the streets, arthritis and foot problems from injuries not allowed to heal and walking on burning tarmac, many have been blinded.
On my first trip to India in 2010 I had just arrived in Pushkar and going off to explore the town came across an elephant in the market square, I couldn't believe my luck and was so excited to see one, painted and primped for the festivities (yes, that is a man standing on her head) but this is exactly what the charity are trying to raise awareness of, aimed at well-meaning foreigners and the general public highlighting the cruel practices and lack of basic welfare that these incredible, intelligent and gentle animals are subjected to when used for manual labour, festivals, processions, entertainment and street begging. Just think about it, how else would a 3-4 tonne giant be happy to submit to this demeaning, enforced behaviour?
I had arranged for myself and Kelly to spend time at Wildlife SOS as general volunteers, happy for the chance just to be around elephants and to find out more about the work that the charity does. However, we were thrilled to be asked to meditate and offer reiki with both the elephants and sloth bears during our time there. The volunteer programme is well organised and involves helping with day to day care, preparing food and helping with bath time, the highlight of the day for me being the morning walk through the beautiful countryside around the centre, accompanied by one of the resident dogs.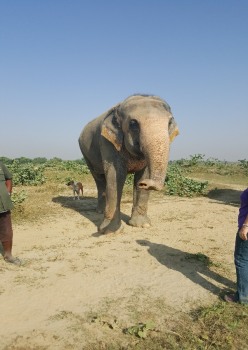 Wildlife SOS attracts volunteers from around the world and during our visit we meet Sarah and Andy who have been travelling in India, at home in Australia they are both active animal welfare campaigners. Also volunteering was Trish London a vet from the States who is spending several months at various centres across Asia studying elephant medicine. Trish testifies to the intelligence of elephants in general, she said at a recent conference she attended it was fascinating to listen, over a period of hours, to various elephant experts come up with solutions to specific issues of human/elephant conflict only to hear someone else say 'nope tried that'! Unfortunately this is an ongoing problem as their habitat is replaced with agricultural land.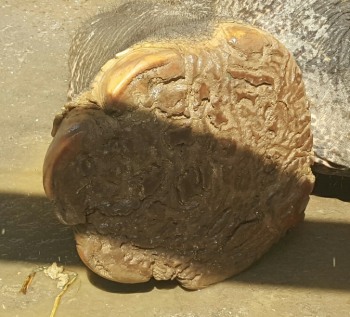 In the wild elephants will walk for many miles in family groups, they are very social, another basic right that has been denied them in captivity but they are more than making up for that under the care of the charity, firm friendships are being made such as between our walking companions Maya 42 yrs ( in Hindi her name means 'illusion' ) an ex circus elephant and Poolkali 60 yrs ('blooming flower' in Hindi) a rescued begging elephant, whose sensitive feet were too painful to stand on from years of walking on hot tarmac but now after living on natural ground her feet have healed and now she loves to create foot print impressions on canvas!
The morning walk. Well what can I say walking with elephants, what an experience!! We accompany Maya and Poolkali out into the countryside, they are gently coaxed along the route with bananas, I take advantage of the other volunteers on banana duty to really tune in and join with the ladies energy as we walk along, the gentle strength and grounding energy planted with every silent footstep is breathtaking – truly a walking meditation.
We walk towards the river overlooking beautiful countryside listening to peacocks calling.
A memorable moment for me is when we have stopped at the riverside to let the ladies graze I find myself standing level with Maya's head just marvelling at the power, strength and peace emanating from her and don't hear Poolkali move in beside me. As I stand between these two majestic heads, I have to admit to a moment of nervousness as everyone else is at the other side of Maya, but as they quietly consider me I get the definite sense that they are speaking to each other I just enjoy the moment in their presence.
Not expecting our day to get better than that, we are thrilled when the staff set up some chairs for us to meditate with a group known as the nut group in a quiet area next to the enclosure. Peanut is described as the naughty youngster The group surround Coconut on the ground in a tight circle to allow her to rest and protect her.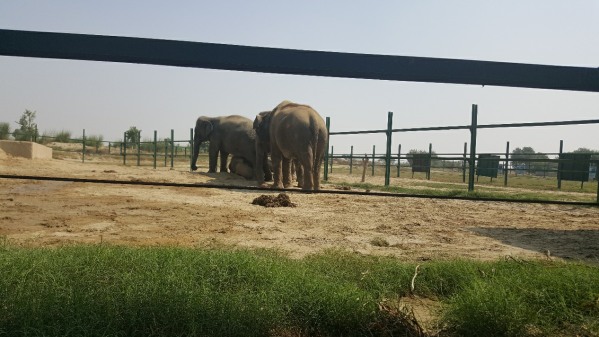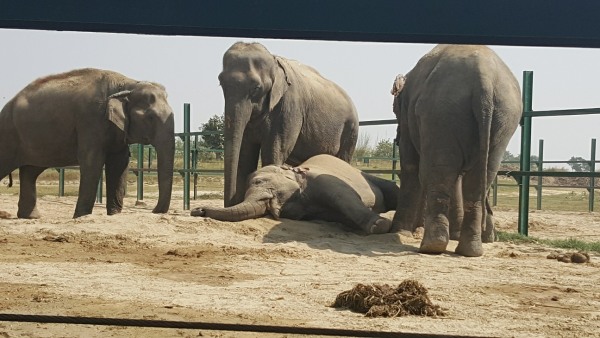 The inquisitive youngster Peanut comes over to investigate first and we can see where the naughty reputation comes from but almost immediately Suzy, an ex circus elephant and at 65 is the oldest resident at the centre (middle photo) moves him away as she comes close to see what is going on, it seems as if to check that it's safe for the others.
She stands in front of us and goes into a deep trance state, totally accepting and becomes one with the reiki and us. I get quite emotional when I break to take the photo as I sense she is weary and sad for humans but has the emotional intelligence to forgive and trust individuals on their own merit, in an ideal world elephants like Suzy would never be captive but we cannot change the past and hopefully she will be a teacher for future generations.
Suzy moves back to the group and almost immediately they part from their tight knit circle opening up so that we can clearly see Coconut on the ground facing us, they all started to relax into the session. I feel so honoured to have shared a reiki space them.
We break for lunch and back at the volunteer cabin we give the other volunteers and staff members a reiki session, the group energy created when like minds come together is very special it reminds me of the positive energy of our SARA community. Together we can make a difference.
An unforgettable experience … that I can't wait to do again!
Alison McKinnon
SARA Teacher