I had been asked to reduce my work hours by one day each week and the following week I received a letter in the mail from my local RSPCA advising I had been accepted for volunteer work and could I start next week. The Universe was telling me something. My "real" work was just beginning, volunteering one day a week at the RSPCA.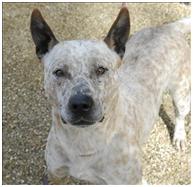 My first day volunteering at the RSPCA was very busy cleaning cat and rabbit cages, offering Reiki as I went. And then Kim, the dog trainer/behaviourist person asked could I go and see the dog quarantine area to offer Reiki as there were some problem dogs. As I entered the dog quarantine, I wondered where should I start as there were so many needy animals, it was difficult to choose. So I stood in the middle, grounded myself and offered Reiki to all the dogs at the same time to see who would accept it. Within minutes, all dogs had stopped barking. The messages of "What have I done to be put here?" just flooded towards me. These poor animals were all carrying so much guilt thinking they had done something wrong to be put in prison. This is so common amongst shelter animals, even those that have been formerly mistreated.
Then there was Rusty, a four year old red healer cross who was just quivering from fright with his tail between his legs. He was extremely underweight and had a "Caution, Dangerous Dog – Do Not Enter" sign on his cage. Rusty, together with his house mate, Chloe, a three year old German Shepherd cross, had been rescued from an extremely abusive home where affection, respect and enough food were unknown. Rusty tried to look at me with his orange eyes but was too frightened. However, he did tell me he was misunderstood.
After finishing the Reiki treatment I went and saw Kim, who mentioned that Rusty was on the Put To Sleep list due to his behaviour problems. I told Kim that I received the message he was misunderstood, and as so often happens when you think a Reiki session has finished, Rusty was continuing to send me more information: he was a truly gentle dog but was very misunderstood and carried so much guilt as to why he was in prison. I conveyed this to Kim, stressing he was really gentle if given the chance and that I was not frightened of him at all. Rusty would not look at you directly, but put his head down and looked at you indirectly with his orange eyes. This was Rusty's way of protecting himself from physical abuse.
Kim was amazed that I could "pick up" such information and agreed to give Rusty one more chance.
The next week I gave Rusty more Reiki and this time, he no longer had his Dangerous Dog sign on his cage. The RSPCA staff were amazed at the difference in Rusty as Reiki had never before been given to the shelter animals.
By my third week of volunteering, Rusty had graduated from Dog Quarantine to the normal, healthy dog section! Rusty was definitely NOT on the Put To Sleep list now! The difference in Rusty was a joy to behold. Rusty was running, barking and playing with the other dogs and had put on some weight. Rusty was up for adoption!
Unfortunately the weeks passed without anyone showing Rusty any interest in adopting him. He had grown into a beautiful, strong boy with very wide shoulders but he could look somewhat threatening to people who were not familiar with his breed. When I visited the shelter, Rusty would look at me with such a happy face and his happiness was payment enough for me, but he needed a permanent home.
Then one week Rusty was not there. I was devastated! What had happened to him? As I can only volunteer one day a week, I tried to find Kim, hoping she would know. When I asked where was Rusty, Kim had the biggest smile on her face. Rusty had been adopted! A lady who owned a mango farm in far away New South Wales, approximately 2,500km including two States and Bass Straight away (one of the roughest stretches of water in the world!) from Tasmania, Australia, had seen Rusty's profile on the RSPCA adoption website and fallen in love with his eyes – those little, squinty, orange eyes!
She had travelled all that distance, but needed to know that Rusty was indeed the dog for her. This was a woman who needed to receive a sign that Rusty was her dog, that Rusty would choose HER, not that she chose Rusty. Apparently Rusty did choose her, he walked slowly up to this lovely woman, sniffed her, walked away again and came up to her three times before he placed himself against her legs for a cuddle. The woman was thrilled, Rusty was indeed HER dog. But, because she lived in another State of Australia and we could not physically do a property inspection, it was doubtful the adoption would go ahead. Thankfully Kim pleaded Rusty's case and explained no other person had shown any interest in adopting Rusty and Rusty had obviously chosen this woman as his forever person, the adoption went ahead. Rusty is now running free on a mango farm in New South Wales, over 2,500km away from Hobart, Tasmania, being the true gentle dog I always knew he was.
There is also a happy ending for Rusty's housemate, Chloe. My daughter, Tracey, and her paraplegic partner, Darren, adopted Chloe after a name change to Charli-Chloe, as my daughter has a cat called Chloe. The three of them took to one another straight away, and now Charli-Chloe, Tracey, Darren and Chloe the cat, are one very happy family. Even though Darren is in a wheelchair, not once has Charli-Chloe tried to escape from the car, as it can take Darren some time to arrange his wheelchair and get out of the car. Charli-Chloe even helps to open up the gate to let Darren in the yard. After an abusive life, Charli-Chloe knows she has a loving home and is no hurry to leave.
The RSPCA in Australia has a policy of only putting to sleep those animals that show extremely bad behavioural problems with no prospects of rehabilitation or if it is kinder to put the animal to sleep due to severe illness. Because Rusty was declared a dangerous dog and could not be rehabilitated, he was going to be placed on the Put To Sleep list. Reiki prevented this.
Wendy Williams
Reiki Master/Teacher
and RSPCA Volunteer