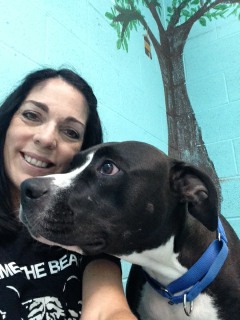 I have had the most amazing, beautiful experiences with the dogs at my local shelter where I volunteer Animal Reiki.  Those little Buddhas with fur have opened my heart, brought in the "light" and have shown me the way to compassion, love, peace and joy on deep levels.  The whole idea of sharing Reiki with animals at shelters was a very scary one for me at my first Animal Reiki class with Kathleen Prasad, and at the time, I thought to myself, "I never could do that"!  The animals had other plans.  Once I began devoting to my Daily Meditation practice as instructed by Kathleen, I felt a pull in that direction and have never looked back.
In the beginning months of sharing a Reiki space with the dogs at the shelter, it was pretty awesome to watch them welcome me and the Reiki meditation that I was offering.  I would also see them change before my eyes and then get adopted.  I never discussed it with the Animal Control staff and I wasn't even sure they knew or understood what I was doing quietly on the floor with my eyes closed!  I would quietly walk into the shelter, do my thing and walk out sometimes giggling to myself at the dog's silly antics.  I was just thankful the shelter staff let me come in and do what I love.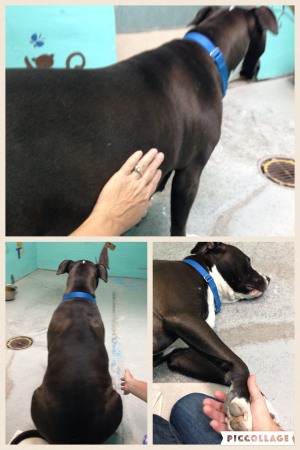 After a few months went by, I began to feel a sense of dread when I would drive up to the shelter.  This bothered me because if I was feeling this uncomfortable how can I help the animals?  The dread wasn't from the animals but it was an unspoken feeling I was getting from someone, something!  I became fearful and knew I had to take a step back from the shelter and look at the whole picture from a different perspective.   I realized I have to stay strong in my daily meditation practice, go deeper, heal myself of all those fears lingering.  Does the shelter staff think I am nuts, am I helping, do they care, should I keep doing this?   I didn't know what was next, but I knew I could not give up on myself or the animals that need a sacred space to heal and feel safe, either at the shelter or somewhere else.  During my daily meditation, I  kept asking for a sign if I was meant to go back to the shelter.
My sign came in on my first day of volunteering at a local cat rescue where I help clean the cat condos as well as feed them.   An Animal Control officer from the shelter was there and when I saw her, the fear crept in and I cringed for a minute and thought to myself, "she thinks I am nuts"!  In the next moment, I let it go of that fear and we talked and she said I should come back to the shelter.
I am excited to be back at the shelter and I am happy to report that the Grass Valley Animal Control Officer that told me to come back has supported me and my Animal Reiki journey at the shelter and I am forever grateful to her for believing in me and what I do.  The Animal Control Supervisor, who was an admitted skeptic of Animal Reiki, recently had an experience that is giggle worthy.  He came into the Animal Control lobby and thought for a moment a little doggy was "dead".  The little doggy had just had a Reiki session with me and was sleeping very soundly in his crate.  I think at that moment the Animal Control Supervisor had become an advocate for Animal Reiki and a supporter of mine.  My take from all of this is to never give up on yourself and your passion and for all of us Animal Reiki Practitioners and Teachers, never forget your Daily Meditation practice.
Happy Tails!
Maureen Petras
SARA Practitioner